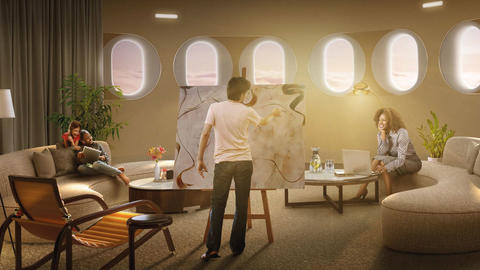 Over the last 100 years, Airbus and its founding companies have been at the forefront of aviation, giving birth to masterpieces such as the Concorde and the A380. Within Airbus we believe that dreaming big is our duty to go beyond the unimaginable, carve in history our achievements and inspire future generations to constantly defy what is deemed impossible.
This mindset combined with curating the finest flying experience is why ACJ (Airbus Corporate Jets) was born. Whether you fly the ACJTwoTwenty or the ACJ350, we pride ourselves of four key intertwined DNA strands that are behind everything we do within ACJ: ultimate comfort, intercontinental freedom, pioneering technology and unbeatable economics.
We understand how important freedom and flexibility is for you. Which is why when you select an Airbus corporate jet, you choose flying anywhere you desire non-stop, comfortably and surrounded by the pioneering technology that complements everything you love to do. Whether it is fine dining, pampering, movie night, working from the sky to make strategic business decisions or simply relaxing with your loved ones and cherished guests, we have curated the space and technology to enable you to do so, uncompromisingly.
We take the reliability of our products immensely to heart. Airbus corporate jets are built on top of an incredibly optimised and robust platform we are proud of, so that you do not have to worry about anything. We offer you the global support network of Airbus, but also the exclusivity of having a bespoke customer support, tailored around you.
Live the best of both experiences
Owning an Airbus corporate jet or an Airbus corporate helicopter is not just about the plane itself, but rather the wealth of opportunities and memories that come with it. The smile and heartwarming emotions we bring you and your loved ones the moment you step onboard, is the reason why we are in business. 
We design a unique and seamless experience and join two worlds: the world of global travel and destinations across the world and  the world of remote locations and city access. 
This is Business Aviation by Airbus.