CREATE YOUR PERFECT PLACE IN THE SKY
Who better to accompany you to design and build your perfect place in the sky than the company that makes the Airbus corporate jets?
You have a choice of pre-defined cabin concepts or you are free to fully customize your Airbus corporate jet to your exact needs. Our cabin designers and cabin engineers have unrivalled experience, knowledge and skills. From concept development to cabin customization, we provide peace of mind and take care of every details.
"Through deep understanding and trusted relationships, we help customers create their perfect place in the sky. Our focus is to make the cabin a place in which customers immediately feel at home and relaxed" 
Customers like to realise their dreams by customising private-jet cabins to suit their lifestyles, and the ACJ team is ready to help.
Sylvain Mariat
Head of Creative Design
ACJ TwoTwenty Creative Studio
---
DESIGNING YOUR PERFECT CABIN
Imagine being able to design your own cabin. Enter a world of luxury where you get to choose more than just your seat. Where you can feel at home, get down to business, dine in style, or even sleep in total comfort.
Welcome to the exclusive ACJ TwoTwenty Creative Studio!
You can now imagine and design your own luxury interior with the ACJ designers and technical specialists who will help, guide and advise you along the visit.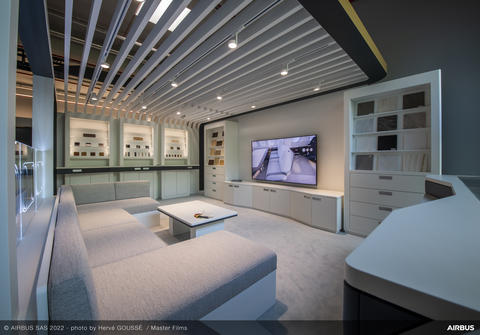 Getting creative in the ACJ TwoTwenty studio
The ACJ TwoTwenty Creative Studio, dedicated to our customers, offers an immersive creative space where you can literally step into a real-size section of the cabin, then take a virtual walk through your imagined space. 
The studio opened in Toulouse, France in May 2022.
Our ACJ Creative design team accompanies customers on their own creative journey and brings their cabin to life. 
Now what if that owner were you? Come with us and let's help you imagine your perfect cabin.
The real-size section of the cabin
The lounge 
The VR - Virtual Reality - area