THE WORLD'S
MOST MODERN
VIP WIDEBODY
The ACJ350 – the latest addition to ACJ' family of VIP widebodies – offers innovative technology such as wings that morph in-flight to produce the most efficient and cost-effective flight possible as well as a fuselage made from next-generation carbon composite materials.
The ACJ350 delivers Xtra comfort, Xtra innovative technology, Xtra efficiency and to be Xtra easy to outfit.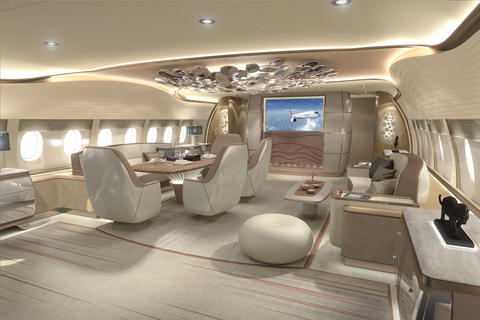 Personal space leader
Widebodies such as the ACJ350 offer the equivalent of several houses of floorspace. This is the most spacious cabin for an ultimate comfort.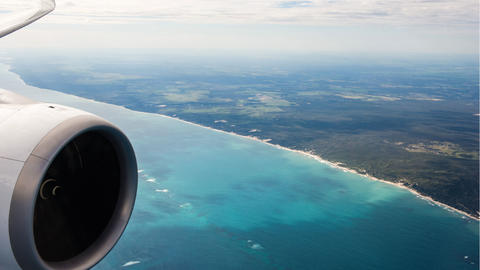 Intercontinental
We understand how important freedom and flexibility is for you. Which is why when you select an Airbus corporate jet, you choose flying anywhere you desire non-stop, comfortably and surrounded by the features that complement everything you love to do.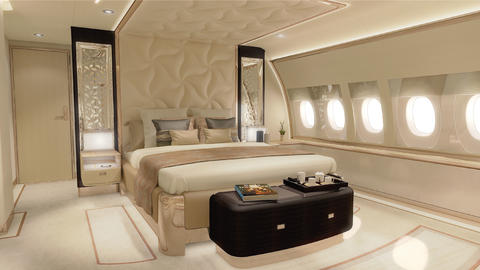 Unbeatable economics
We have your best interest at heart. For us, choosing an Airbus corporate jets must make sense for you. Our planes have been designed and built to provide you with the greatest value for money compared to any other business jet.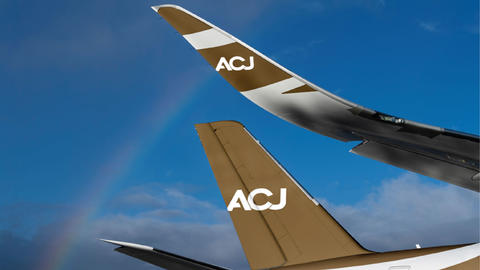 Pioneering technology
The ACJ350 has learned from nature, whether it's the revolutionary adaptive wing design – inspired by birds – which morphs while airborne to achieve maximum aerodynamic efficiency by optimising wing loading, reducing drag and lowering fuel burn; or the savings generated by innovative technological advances. "From the second you leave your home on the ground, to the moment you board your home in the sky, you're still at home."

Customers like to realise their dreams by customising private-jet cabins to suit their lifestyles, and the ACJ team is ready to help.
We start by learning how customers want to use their jets, move on to understanding their tastes, passions and preferences, and then propose designs for them to review.
Flexible cabin

ACJ350-900 
| | | |
| --- | --- | --- |
| General specs | Metric | Imperial |
| Wing span | 64.75 m | 212 ft 5 in |
| Aircraft length | 66.8 m | 219 ft 2 in |
| Height | 17.05 m | 55 ft 11 in  |
| Fuselage diameter | 5.96 m | 19 ft 7 in |
| Cabin length | 51.04 m | 167 ft 5 in |
| Cabin width | 5.61 m | 18 ft 5 in  |
| Cabin height | 2.43 m | 8 ft |
| Cabin floor area | 270 m2 | 2,905 sq ft |
| Cabin volume | 854.1 m3 | 30,162 cu ft |
| | | |
| --- | --- | --- |
| Aircraft data | Metric | Imperial |
| MTOW | Up to 280 tonnes | Up to 606,200 lb |
| MLW | 207 tonnes | 456,350 lb |
| MZFW | 195,7 tonnes | 431,450 lb |
| MFC | 166,500 litres | 43,980 US gal |
| Max range | 20,550 km (25 pax) | 11,100 nm (25 pax) |
| Max cruise altitude | 13,100 m | 43,000 ft |
| Engines | Rolls-Royce Trent XWB 84 | Rolls-Royce Trent XWB 84 |
ACJ350-1000 
| | | |
| --- | --- | --- |
| General specs | Metric | Imperial |
| Wing span | 64.75 m | 212 ft 5 in |
| Aircraft | 73.79 m | 242 ft 1 in |
| Height | 17.08 m | 56 ft |
| Fuselage diameter | 5.96 m | 19 ft 7 in |
| Cabin length | 58.03 5 m | 190 ft 5 in |
| Cabin width | 5.61 m | 18 ft 5 in |
| Cabin height | 2.43 m | 8 ft |
| Cabin floor area | 308 m2 | 3,315 sq ft |
| Cabin volume | 970 m3 | 32,030 cu ft |
| | | |
| --- | --- | --- |
| Aircraft data | Metric | Imperial |
| MTOW | Up to 319 tonnes | Up to 703,300 lb |
| MLW | 236 tonnes | 520,300 lb |
| MZFW | 223 tonnes | 491,600 lb |
| MFC | 164,000 litres | 43,320 US gal |
| Max range | 19,100 km (25 pax) | 10,300 nm (25 px) |
| Max cruise altitude | 12,500 m | 41,000 ft |
| Engines | Rolls-Royce Trent XWB 97 | Rolls-Royce Trent XWB 97 |