The ACJ TwoTwenty,
a game changer in business aviation
Developed especially for business aviation, the ACJ TwoTwenty clean-sheet design offers over 12 hours of non-stop range, optimized performance capabilities, whilst being embedded with the latest technologies and innovations. Coupled with twice as much cabin space than any other Ultra Long Range jet and at a similar price point, the ACJ TwoTwenty is a game changer in business aviation.
Reason #1
Built with pilots in mind
Right from the start, pilots were an integral part of the design and development of the A220. Through coordination between pilots and other specialists, the cockpit combines the industry's best practices along with improved human factors. 
The entire flight deck is based on a Heads-up philosophy, that enables the pilot to focus on the critical items, hence increasing situational awareness. 
This intuitive and easy-to-use design aims at reducing pilot workload and increasing situational awareness. As a result, the ACJ TwoTwenty offers reduced time and cost effective training, ensuring better availability and budget control. 

Overall, the ACJ TwoTwenty flight deck has been designed to be simple, efficient and smart, without compromising on reliability. It is an advanced flight deck for today and tomorrow.
Reason #2
Latest technologies on board
The ACJ TwoTwenty is built with an all-new efficient design, optimized and balanced with modern and mature technologies.
The ACJ TwoTwenty, like all other Airbus cockpits, has been designed with the pilot's physical comfort and practicality in mind. The spacious flight deck with the latest innovations will become the pilots' preferred office in the skies.
The 3-axis, full-envelope protection Fly-By-Wire system counts on control laws designed to be aligned with pilot intuition and crew management. The two simple and intuitive Fly-By-Wire modes (normal and direct) offer increased safety without removing control from the pilot's hands.
The flight deck layout, with five fully interchangeable large LCD screens (15.1 in), makes crew management and information sharing much easier, as the flight crew always have access to critical flight data.
The avionics suite Collins Pro Line Fusion ®, specifically designed for corporate aviation, is fully integrated with other systems and adds value at every stage of the operation. Its scalable architecture with provisions to upgrade systems ensures that while being advanced for today, it is also ready for tomorrow.
Thanks to the extensive use of composite and advanced materials, the ACJ TwoTwenty is a lightweight and easy-to-fly design with reduced maintenance and extended service life. Pairing it with modern Pratt & Whitney GTF™ PW1500G engines, the most efficient in large business aviation, the ACJ TwoTwenty delivers low fuel burn & emissions whilst being extremely quiet and neighbour friendly.
Reason #3 
Fly from & to anywhere you want to
The ACJ TwoTwenty is an extremely high performance business jet, capable of operating in the same airfields as any other competitor. 
Thanks to the Pratt & Whitney GTF™ PW1500G engines (with up to 24,000 lbf of thrust), it just needs 5,470 ft (1,667 m) of balanced field length at maximum take-off weight (MTOW), making it ideal for short runways.
Despite having twice as much cabin volume compared to other Ultra Long Range aircraft, the ACJ TwoTwenty has a similar parking footprint and ramp presence. There is no need to wait for any additional ground equipment to board the most comfortable cabin (for passengers and crew) in corporate aviation: the integrated airstairs ensure autonomy and flexibility for day-to-day operations.
Urban or challenging airfields are not a problem for the ACJ TwoTwenty. CAT III autoland is a standard feature on this aircraft, allowing very low visibility approaches (with decision heights lower than 100 ft and runway visibility of less than 250 ft); simply let the ACJ TwoTwenty do the job.
Constrained environments such as city centres may be a difficulty for other airplanes, but not for the ACJ TwoTwenty, thanks to its performance and efficiency. It is certified for steep approach operations of up to 5.5º glideslope angle, being able to operate complex approaches such as into London City airport.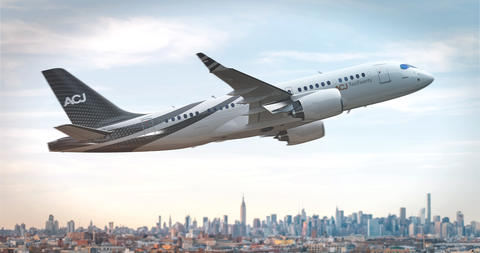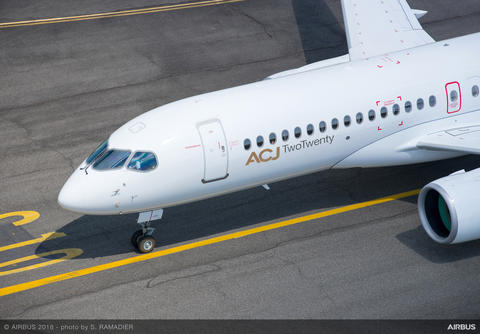 Reason #4
Easy to operate, ready to fly
The ACJ TwoTwenty has been designed to be easy to operate, with a 'ready-to-fly' philosophy. Its flight deck has been designed with enhanced automation to provide simple interaction and  reduce pilots' workload whilst increasing situational awareness.
Thanks to the latest technologies on board, the ACJ TwoTwenty benefits from an improved Flight Management System (FMS). Based on phases of flight, its graphical interface ensures ease of use and training.
With flight plan upload capability  and highly integrated systems, crew can arrive in a dark cockpit and safely prepare the aircraft to be ready for taxi in less than 15 minutes,  enhancing time management and flexibility.
Intuitive and customizable Electronic Checklists (ECL) are designed to maximize pilot awareness whilst decreasing their workload, since they are comparatively short to go through. 
In addition, the quick engine power on and single engine taxiing certification allow additional efficiency on missions & operations.
Reason #5
A true comfortable workspace in the skies
The ACJ TwoTwenty delivers comfort for all on board; including the working crew.
On the ACJ TwoTwenty, comfort does not impact the  flying characteristics. This versatile and reactive aircraft is conceived to be flown the same way as any other business jet.
Pilots were fundamental in the A220 development and their inputs were vital to its final design. The large and roomy cockpit provides pilots with unobstructed inside and outside visibility, alongside distinctive systems & equipment to reduce crew workload and fatigue.
Crew working space does not end in the ample flight deck. The ACJ TwoTwenty cabin can be configured with three lavatories, one of them specifically dedicated to the crew, and a crew rest area featuring full lie-flat seating. Those amenities are not simply design choices; they help create a comfortable working environment for the crew and ensure increased efficiency during long distance operations.